Packaging is primary and foremost functional: it supports products getting from point 1 to point 2 undamaged. It goes without saying that when shipping fragile products, protective packaging becomes even more critical. Here's a step-by-step guide from Packman Packaging, India's leading custom glassware packaging manufacturer and supplier.
A. Preparing the items
Glassware needs to be wrapped individually prior to it being put in a shipping box. First, wrap them in the paper, then a minimum of 3 layers of bubble wrap, for adequate protection.
Another option for wrapping is to use a box with inserts, which can be customized to fit your items. Paper inserts are perfect for very small glassware – for example, inserts for lacquer kits, which store nail polish bottles (amongst other products) in custom cutouts.
Corrugated cardboard inserts are more secure compared to paper inserts, as the corrugation lends some cushioning, and hence could be used for slightly bigger or heavier items. Foam inserts, being the most shock-absorbent, are the finest option for shipping glass. Contrary to cardboard or paper inserts, however, designs are not printable on foam inserts and they are not as eco-friendly.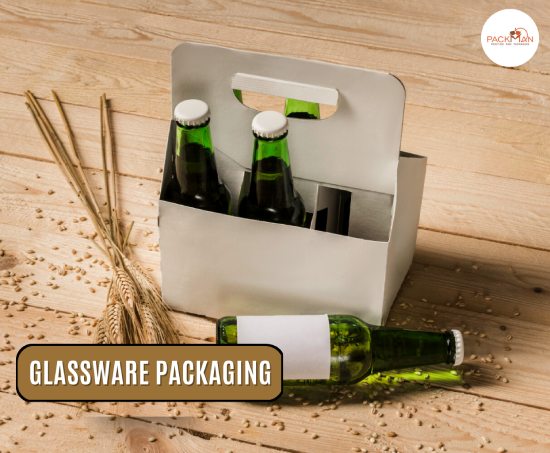 B. Void Fillers and the Shipping Box
The wrapped or boxed glassware must then be placed in a corrugated box, with a minimum of 5cm (2 inches) of space between them and each side (including the top and bottom) of the box.
This space could be made using void fillers – like packing peanuts or air pillows – to minimize shock and friction. Begin by laying down 5cm (or more) of the filler at the bottom of the box, and then keep your items on top of it. Around 10 to 15% extra void filler must be used to overfill the box to make sure that the items within do not move when the box is shaken. Finish by safely taping down the box flaps using packing tape and marking it using a fragile sticker.
Corrugated boxes act as an added layer of protection for shipping glassware, as cardboard is quite rigid and shock-absorbing material. Corrugation is classified by thickness (types A-F) and the number of layers (known as "walls") of corrugation.
Shipping multiple products
If your glassware is small in size and relatively light (less than 2.3kg (5 lbs)), multiple pieces could be shipped in the same box. Wrap them individually (as above) and use corrugated dividers to separate them inside the box. Arrange them so that weight is distributed equally, within the box – ideally, thereby, the weight difference between items must be no more than 1kg (2 lbs).
Articles weighing more than 2.3kg (5 lbs) needs to be shipped in individual boxes. Even heavier products (those over 4.5kg (10lbs)) need to be packed using the box-in-box method, that is, wrapped (as mentioned above) and placed in a small box, which is a result packed into a larger container using void filler.
C. Shipping glassware
Adequate packing must be enough to protect glassware without the requirement for special postal services. However, a fragile or special handling service (if present), as well as insurance, might be worth considering, particularly, if the glassware is valuable or precious. Consider adding universally recognized packing symbols on all your shipping cartons as well to make sure proper handling during delivery.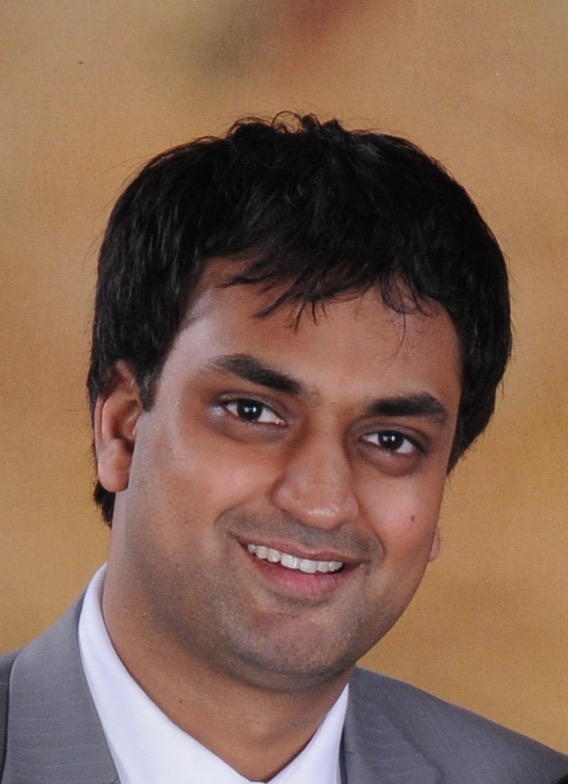 Mr. Gaurav Jalan is the Founder and Director of Packman Packaging, one of the largest Indian packaging company that has been serving some of the world's eminent technology, pharmaceutical, retail, fast-moving consumer goods, food, courier, publication, Jewellery, fashion, e-commerce organizations for the past 30 years.
A brilliant academic, a good graphic designer and a graduate from India's top management institutes, Mr. Jalan is a visionary businessman and an eminent spokesperson on matters related to the Indian Packaging industry. Under the leadership of Mr Gaurav Jalan, Packman.co.in (Packman's official website) became India's first e-commerce store for packaging solutions in the year 2002 (5 years before Flipkart was launch).
Today, Packman Packaging manufactures more than one lakhs of corrugated rolls, corrugated boxes, high-quality bubble sheets, safety/courier bags and more from it state of art manufacturing unit, located in Delhi NCR region. The manufacturing unit uses advanced packaging machinery and printing technology that ensures Packman's customers get fast and efficient delivery, high-quality brand representation through their product packaging.
Packman Packaging Top Offerings
Custom Corrugated Boxes – Packman Packaging is one of the largest manufacturers of 3 ply corrugated boxes in India, 5 ply corrugated boxes, and 7 ply corrugated boxes along with corrugated rolls in India. At Packman's online store you can customize (with your logo, graphics, shipping instruction) and buy corrugated boxes at the Best Manufacturer Rates and at Best Quality, Get PAN India Delivery, Free Shipment, Discounts on Bulk orders
Tamper Proof Courier Bags – You can buy Tamper Proof 60 Microns Security Courier Bags and 50 microns security at the Best Manufacturer Rates and at Best Quality, Get PAN India Delivery, Free Shipment, Discounts on Bulk Orders.
Stand Up Pouches – You can buy all kinds of customized and non-customized Stand-Up Pouches at the best wholesaler Rates and at the Best Qualities. Some of best seller stand up pouches at Packman store are:
Transparent Pouches with Zip Lock
Kraft Finish Stand Up Pouches with Zip Lock
Custom Printed Stand Up Pouches
Oval Window Stand Up Pouches.
Silver Standup Pouches with Zip Lock
Stand Up Pouches with Nozzle for Handwash, Ketchup and for Food Paste packaging.