Both the corrugated packaging and printing have come a long way in a few years. Thought durable during shipping, corrugated substrates are soft and spongy and can be comfortably crushed during an indelicate printing stage.
As a matter of fact, businesses once had to settle for item shipping and display boxes printed with dull, low-resolution images and texts that were less visible or appealing to consumers.
Modern day's advanced technologies and materials have transformed corrugated packaging printing. Thanks to the advances, plus the ever-expanding capabilities of flexo, brands can simultaneously use corrugated product boxes to boost product visibility and promote a brand's presence. This is, definitely, in addition to benefiting from the material's combination of lightness and durability, that is ideal for shipping.
The variety of available process and materials have made several methods for printing on corrugated material. Types of printing on corrugated boxes are:
Flexography (Flexo)
Offset lithography Litho)
Screen printing
Digital printing
Because of its versatility, flexographic printing has become 1 of the most commonly utilized.
Here, Mr. Gaurav Jalan, Founder, and Director of Packman Packaging Pvt Ltd Delhi's top Corrugated Box manufacturer talks about corrugated package printing with Flexo.
What Is Flexo Printing?
In Flexo printing an imaged sleeve, cylinder, or plate places graphics or text onto a substrate. Flexo printers use image carriers made of elastomer or other polymer materials. These image carriers contain raised areas that showcase your artwork and are adhered to rolling cylinders.
Ink is metered straight onto the image carrier, by a separate cylinder called an anilox. As the image carrier cylinder moves, it transfers the image over a moving substrate.
Flexo works good for printing straight onto corrugated, or onto other substrates, which is later laminated to the final item
A faster printing process, flexo uses fast-drying inks and works on several types of absorbent and non-absorbent materials. Because of it versatility, resilience, and fast print times, flexo is hugely considered the best printing option for high-volume custom corrugated works.
Examples of corrugated products fit for flexo printing are:
Shipping boxes
In-store displays
Pre-printed liner board
Subscription boxes
Jewelry boxes
Clothing boxes
Bakery boxes
Point of purchase displays
Corrugated Packaging Printing Ways
There are 2 distinct methods to flexo print on corrugated materials:
Direct printing
Pre-printing
As the name says, direct printing prints straight onto the corrugated final product. Pre-printing prints on a smoother substrate, which is later laminated to the final product.
Flexo printing's versatile image carriers very easily handle either method.
Important Considerations for Corrugated Packaging Printing with Flexo
The most essential components to consider in corrugated packaging design are:
Artwork specifications
Setup alternatives
Type of Ink
Image carrier materials
Number of image carriers required
Proper consideration of these corrugated printing steps will assist you budget for product packaging and printing costs, design your artwork and choosing an ideal printing method.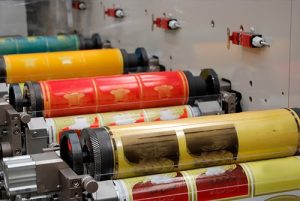 Flexo Color Steps for Printing Inks on Corrugated
When you do flexo printing on corrugated boxes, each color needs a separate image carrier. A 4-color print needs 4 image carriers. Remember to think of the cost of color when designing an artwork. Factor in the price of buying and setting up several image carriers, and inks, into your packaging budget.
When choosing colors for your design, think of the color of your substrate, as the ink will look either darker or lighter when putting over a brown or white surface.
It is suggested to keep the graphics simple with flexography printed straight on corrugated. With straight printing methods, photo-finished images can be hard to accurately render.
In instances when you are printing straight over a corrugated, it may be hard, not unachievable to create some effects, like the gradients and tints. When making an artwork file for direct flexo corrugated printing, the help of a professional designer can help you achieve good results.
The higher the grade and the better the fluting of the corrugated you opt, the higher the registration and quality of your print work.
If you are printing over a smooth substrate and then laminating that onto the final product (pre-printing), you would be able to render additional complex designs.
When finalizing your design, bear that new graphics need new printing image carriers. To lower costs.
Ink Alternatives for Flexo Printing on Corrugated
Selecting the right ink for your project appears like a no-brainer, but making sure that you have the perfect ink for your specific project will assist you to avoid poor print outcomes and expensive and time-consuming re-works.
Various types of flexographic inks will do well on different corrugated products. Ink compatibility depends a lot on the surface tension of the substrate and the remaining of the ink chain.
With the highest surface tension amongst all, water-based inks are generally used for corrugated substrates.
Flexo Image Carrier Options
Flexographic image carriers are normally composed of 2 different materials:
Both image carrier fabrications have their own benefits and disadvantages, but printers usually prefer elastomer image carriers for the majority of the corrugated printing jobs.
Not only the elastomer manufacturing process is quite environmentally-friendly, these images carriers also have superior ink transfer and resiliency making it more cost-effective for the high-volume print tasks needed in packaging.
Corrugated Packaging Printing, Yes, It Can Be Done using Flexo
Whether you opt to render high-quality, photo-like images having a pre-printing flexographic process or decide to print graphic designs straight onto the corrugated packages, flexo can certainly work for you.
With its numerable capabilities, time-tested methods, and durable printing materials, flexo can render your business, brand, and products in an eye-catching color, while making consumer trust and brand recognition for years to come.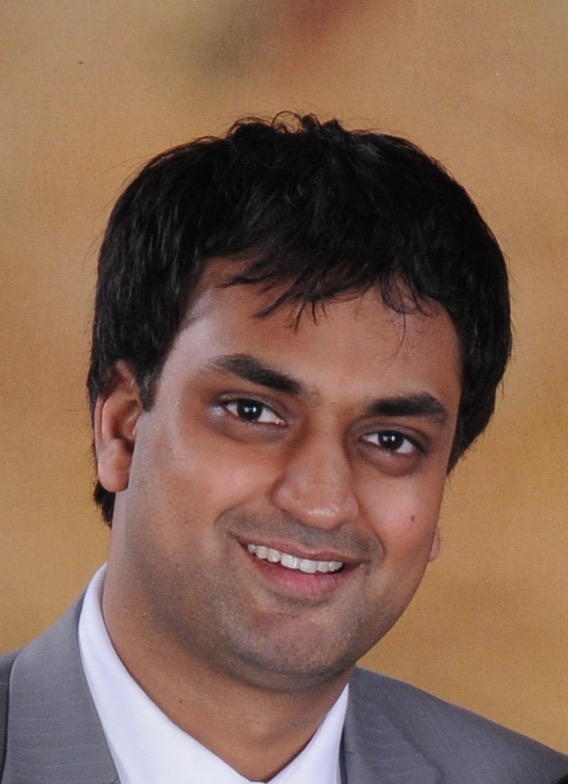 Mr. Gaurav Jalan is the Founder and Director of Packman Packaging, one of the largest Indian packaging company that has been serving some of the world's eminent technology, pharmaceutical, retail, fast-moving consumer goods, food, courier, publication, Jewellery, fashion, e-commerce organizations for the past 30 years.
A brilliant academic, a good graphic designer and a graduate from India's top management institutes, Mr. Jalan is a visionary businessman and an eminent spokesperson on matters related to the Indian Packaging industry. Under the leadership of Mr Gaurav Jalan, Packman.co.in (Packman's official website) became India's first e-commerce store for packaging solutions in the year 2002 (5 years before Flipkart was launch).
Today, Packman Packaging manufactures more than one lakhs of corrugated rolls, corrugated boxes, high-quality bubble sheets, safety/courier bags and more from it state of art manufacturing unit, located in Delhi NCR region. The manufacturing unit uses advanced packaging machinery and printing technology that ensures Packman's customers get fast and efficient delivery, high-quality brand representation through their product packaging.
Packman Packaging Top Offerings
Custom Corrugated Boxes – Packman Packaging is one of the largest manufacturers of 3 ply corrugated boxes in India, 5 ply corrugated boxes, and 7 ply corrugated boxes along with corrugated rolls in India. At Packman's online store you can customize (with your logo, graphics, shipping instruction) and buy corrugated boxes at the Best Manufacturer Rates and at Best Quality, Get PAN India Delivery, Free Shipment, Discounts on Bulk orders
Tamper Proof Courier Bags – You can buy Tamper Proof 60 Microns Security Courier Bags and 50 microns security at the Best Manufacturer Rates and at Best Quality, Get PAN India Delivery, Free Shipment, Discounts on Bulk Orders.
Stand Up Pouches – You can buy all kinds of customized and non-customized Stand-Up Pouches at the best wholesaler Rates and at the Best Qualities. Some of best seller stand up pouches at Packman store are:
Transparent Pouches with Zip Lock
Kraft Finish Stand Up Pouches with Zip Lock
Custom Printed Stand Up Pouches
Oval Window Stand Up Pouches.
Silver Standup Pouches with Zip Lock
Stand Up Pouches with Nozzle for Handwash, Ketchup and for Food Paste packaging.